Dr. Edwin G. Amrhein III, DC, BS
724-453-4848
|
evolvewell@gmail.com
|
http://www.evolvewellnesscenter.com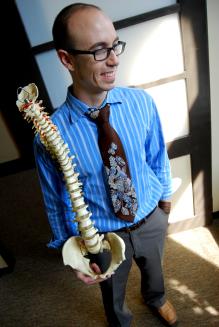 Dr. Edwin grew up on a farm locally (Portersville) and actually practiced martial arts for years in the space which is now Evolve Wellness Center. He is very happy to return home to achieve his dream of having a local true wellness center. He was a natural science major at the Indiana University of Pennsylvania and graduated Summa Cum Laude before attending Palmer College of Chiropractic, Davenport, Iowa Campus, in 2003. While at Palmer, he balanced his intense schooling with being a volunteer yoga teacher, a martial arts instructor, the vice-president of the outdoor club, and community volunteer. He chose to focus on traditional chiropractic techniques and did advanced training in Gonstead, Activator, and Trigger Point.

In 2006, Dr. Edwin graduated Summa Cum Laude, earning his Doctor of Chiropractic degree from Palmer, and returned back to Western Pennsylvania. Before the opening of Evolve Wellness Center, Dr. Edwin practiced in a large clinic in Beaver County for 5.5 yrs. It was during these years that he began furthering his education on functional nutrition and continuing to learn various advanced soft tissue techniques while honing his adjusting skills. At this time he also began to notice the differences between those who responded well to conservative chiropractic care and those who did not. Those that did were typically more active and had better nutritional habits. While, those who did not were typically more sedentary, had poor eating habits, and were possibly over weight. This is how and when his style matured of trying to provide truly honest evidenced based health and wellness advice with his traditional chiropractic methods. During this period, he also developed his unique way of combining cutting edge soft tissue work with his chiropractic adjustments, which when used in conjunction always yielded better and faster results. A 100% functioning nervous system and biomechincs are only as good as the matter in which they are made or as he has been known to say, "100% functioning junk is still junk!"

Dr. Edwin became known for giving thorough, high quality, relaxed and not rushed care, for giving refreshingly honest and customized advice, and clear explanations of health, healing, and any and all related topics. He truly looks forward to serving and providing Zelienople and the surrounding areas with honest logical advice, thorough care, and a big heart, all while at a reasonable rates. As,he is one to practice what he preaches and prefers to lead through example, if you see him running at Moraine or rock climbing at McConnell's Mills, please do say hello. He is always willing to talk and philosophize about the mind-body connection, chiropractic, exercise, and nutrition. Don't be surprised if he gets too excited and goes into too much detail, he means well.
There were no results found.