Yoga for Anyone with Upper Body Tightness (and All You Knitters Out There!)
04/11/2015 @ 11:00 am

-

12:00 pm

$15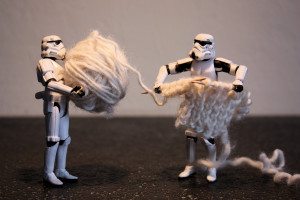 Ok, so Storm Troopers have nothing to do with this class but I thought the picture was funny. 🙂
If you work with your hands a lot there's probably a good chance that you have tightness in your shoulders and neck and maybe even some back pain. In this class we will be doing yoga exercises to release that tightness, strengthen the muscles in the upper body, and relieve pain and tension in the arms and wrists. We will also be focusing on ways to promote better posture while you are sitting at your knitting table, easel, or desk.
No prior yoga experience is necessary, this class is suitable for all fitness levels. Please bring your own mat and dress comfortably. See you there!
If you would rather pay by check and avoid any fees please send a check to:
Elemental Wellness Solutions
206 Mercer St.
Harmony, PA 16037
Or leave a check at Darn Yarn Needles and Thread on your next visit!
Related Events