Cancelled: Singing Life of Plants
06/25/2020 @ 7:00 pm

-

9:00 pm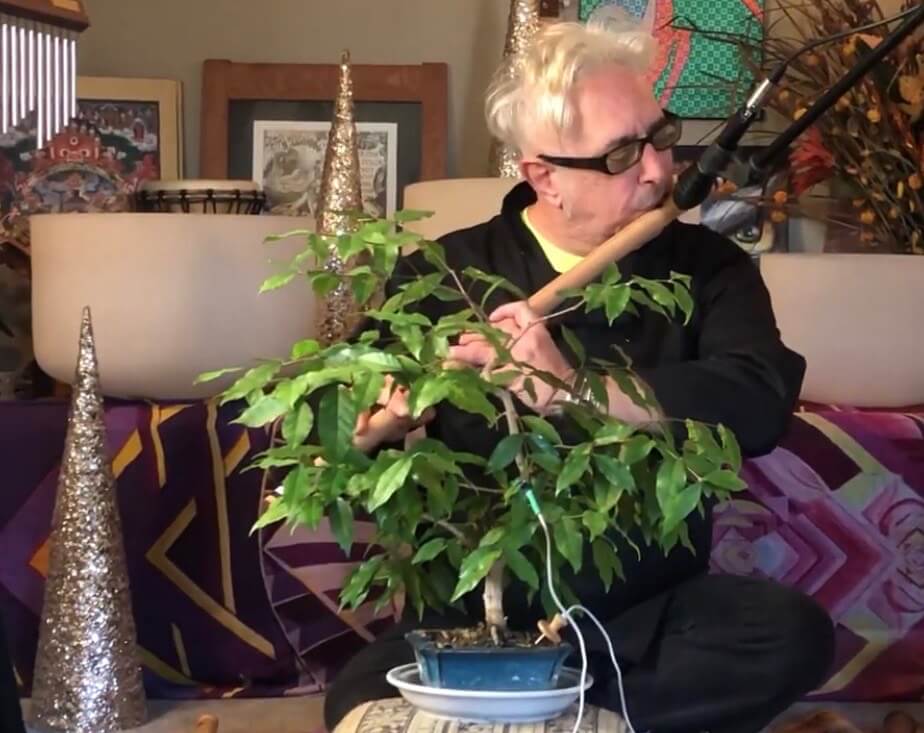 cancelled Covid 19

Steve Scuilli's The Singing Life of Plants
What might an orchid sound like whilst receiving a cool, soft misting of water?
Imagine the song of the amaryllis as it's leaves are gently stroked by caring hands.
How might a ficus tree express the sensation of a breeze blowing through it's limbs?
Yes, plants can "sing."

In the 1960's, Cleve Backster reported observing that a polygraph instrument attached to a plant leaf registered a change in electrical resistance when the plant was harmed or even threatened with harm. His experiments led to the theory of "primary perception" wherein he claimed that plants "feel pain" and have extrasensory perception (ESP).
This basic, observed and measured behavior in plant electrical resistance has been the foundation of experiments over the past five decades. Most recently, the findings have been adapted to create amazing tools/instruments which have opened our ears, hearts and minds to the plant-world's brilliant expressions in a form humans can hear and indeed influence with sounds and movement.
Yes, plants can "sing." In fact, all plants emit signals and respond to changes in their surroundings and have been doing so since the dawn of time. Not only do plants "sing," they perceive sound and movement, and given the opportunity, they love to make music. Bringing this immersive, collaborative experience to people is my goal and vision.
Sound Bath and Beyond.
The Singing Life of Plants program creates a special space for relaxing, recharging and renewing; a first-of-its-kind experience for most people. Not only do the plants sing…I collaborate by playing Japanese Shakuhachi, Indian Bansuri flutes and various electronic wind-controllers/electronics.
Participants are encouraged to relax and interact within the performance space which also includes a unique form of generative music (sounds are expressed in real-time as the environment changes within the space).
The interaction between plants, participants and our immediate environment allows us to understand how connected we are to other living beings regardless of their nature. The plants via our collective interspecies orchestra, express their individual, unique voices gifting the listener with audible examples of how small and large changes can have a profound effect on our environment, as well as our own inner state. The resulting multi-layered sound experience enrobes the listener in a soothing energy; promoting relaxation and concentration.
Sound session experiencers are encouraged to contemplate and reflect on their experience and in doing so, can achieve a heightened level of awareness, greater respect for life and a significantly more profound connectivity to nature.
The Singing Life of Plants performance is a powerful and life-changing experience for people of all ages. There are infinite possibilities afoot as we co-create a sound experience.
CAUTION: this adventure can result in an improved state of well-being: of body, mind, and spirit.
Engage and explore with botanical musician Steve Sciulli's Singing Life of Plants- Become more aware of the magnificence that surrounds you–be sound.
Bio:
?"Music is not what I do…it's who I am."? -? Steve Sciulli Steve Sciulli Biography
Multi-instrumentalist and composer Steve Sciulli, a pioneer in sound healing and sound meditation, has been in service to music his entire life.
Based in the upper reaches of Allegheny County Pennsylvania in a very small rural farming community; Sciulli has established himself as a risk-taker and creative liminal musician.
Over the past 35 years Steve has become well known as a multi-instrumentalist, music educator, interdisciplinary sound artist, sound therapist, writer and teacher; performing over 5000 public performances and recording more than 20 albums of unique and original music as well as folk, ambient and new age albums.
Starting with his seminal Pittsburgh progressive rock band ?Carsickness? ?in the late 1970's, he then founded the Irish rock group ?Ploughman's Lunch? and later formed the sound healing/meditation duo ?Life In Balance?.
For over 15 years Steve toured the country with ?Life In Balance?, performing in venues from Alaska to Florida and everywhere in between. During this time he produced numerous sonic Reiki healing sessions and original sound meditation CDs featuring electronically-processed Japanese Shakuhachi.
Throughout his musical career, Sciulli has maintained a deep musical tradition; intentionally expanding the listener-focused experience by creating trances and hypnotic states with lush sonic environments.
Releases are available on Amazon, iTunes, Spotify, Pandora, etc.
Record Labels
Get Hip Records, Sounds True Records, The Relaxation Company, Real World Records, The Universal Music Group, Solitudes, Avalon Music, Fisher Price Music, Koch Records, Rave Up Records and Allegro Records.
Plant Based Music – The Singing Life of Plants.
Currently, Steve is exploring a new form of bio-communicative music: a collaboration with living plants as they respond to the flow of information and changes in their environment.
"As a Botanical Musician – I c?ombine Ancient Sacred instruments and leading-edge technologies? to accompany the real-time musical expressions of living plants. The result is a unique, intricate, multi-level texture and ambient flow of music which is a direct result of our co-created bio-communication.
The constant, natural and subtle electrical signals emitted by plants triggers electronic musical instruments, giving voice to the individual itself. During the performance, I build musical foundations in a self-generative sound environment which ebbs and flows in response to the ontological values between plant, performer and other factors (e.g. time of day, geographic location, human participants etc.).
The resulting live, bio-acoustic, interspecies performance results in a relaxing, entertaining and visually engaging musical experience."
?A short list of musical instruments played during a sound session: Japanese Shakuhachi – playing this for 30+ years.
Indian Bansuri – playing for over 25 years.
Synthesizers, electronics and wind controllers- playing for 45+
Steve Sciulli 412-605-7281 SteveSciulli@yahoo.com
Quotes
"…Steve has created one of the more unusual and creative records that will come out of Pittsburgh this year". —?Scott Mervis. Pittsburgh Post-Gazette. 6? /17
"Steve Sciulli is one of the area's most versatile musicians, he defies categorization." —?Rege Behe, Pittsburgh Tribune?. 7/17

"Haunting, hypnotic, funny. MAGNIFICENT." —?Jim Dauterive,? the mastermind behind King of the Hill and Bob's Burgers

"Your music added to a new Pittsburgh." ?—B? ill Peduto, Pittsburgh Mayor

"Is it too early to proclaim this the album of the year? With this album Steve advances music to, as we say in Pittsburgh, "a whole 'nother level." There's not a single immemorable [sic] melody or misplaced note throughout these songs. " ?—?Amazon review

"…Sciulli's approach has put him at the vanguard of the regional scene. The consistent theme that shows up in his is radical innovation."? —Pittsburgh City Paper
Related Events