Rhythm of Life Retreat Day
April 28 @ 9:00 am

-

9:00 pm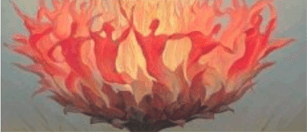 Schedule
9:00 to 9:30am Registration
9:30 to 10:00am Opening Experience for Full Day Participants
10:15 to 11:30am Shamanic Journeying with Dr. Harry Pepper
11:30am to 1pm   Lunch break
1:00 to 2:15 pm Language of Rhythmic Improvisation with Rex Bacon
2:30 to 3:45pm Transformational Movement with Tricia Chirumbole and Harry Pepper
4:00 to 5:00pm Community Drum Circle lead by Ed Boas
5:00 to 7:00pm Dinner break
7:00 to 9:00pm Evening Ecstatic Dance with Spiral Rhythms Ensemble and Tricia Chirumbole
Register Here for Full Day, Work Shop Only or individual Workshops
Workshop Descriptions:
Shamanic Journeying
with Dr. Harry Pepper
Shamanic Journeying is a set of ancient techniques dating back, according to archaeologists, about 30,000 years. Many indigenous cultures throughout the world have used these techniques to access healing and spiritual realms. In this introduction workshop we will utilize a specific tempo and rhythm on the drum, producing a particular sound frequency, which consequently produces a theta state in the brain. This state, usually associated with sleep and dreaming, produces deep relaxation, healing, and often brings profound insight through creative imagery. This unique healing experience can allow participants to unlock new dimensions of personal power in their lives. No previous experience with journeying is necessary as this class will include both basic instruction and a journey experience for all participants.
Language of Rhythmic Improvisation
by Rex Bacon
This workshop will introduce beginners and novices to rhythmic improvisation. This will include discussions on sound vocabulary, organization of time and creative expression. Rex will introduce various musical concepts and simple rhythm based activities that will reinforce materials presented in a lecture format.  Participants will learn basic sound creation, time concepts, and identify blocks for freedom of expression.
Transformational Movement
with Tricia Chirumbole & Harry Pepper
Everything that we need to heal and grow can be found within our own mind~body~spirit field. This workshop will support you in tapping into this source of insight and energy that is always available to you. Through intention setting, breathwork, and a guided journey of free-form movement, you will have an opportunity to explore the unique rhythm of your own body and experience how it can support you in navigating challenging aspects of your self and your life. We will journey together through mindful awareness, non-judgment, accessing our core power, embodying our boundaries, dealing with challenging emotions, and celebrating ourselves and one another! Our goal is for you to experience feeling at home in your own body and safe to authentically express yourself in connection with others. We hope you will go home with a renewed awareness and body~movement practices that you can use in your everyday life!
Community Drum Circle lead by Ed Boas
Drumming is an ancient musical tradition that many cultures around the world use to
energize, build unity, focus attention, relax, and heighten creativity. A community drum
circle is a group of people who come together to make in-the- moment music. No
musical experience is necessary and beginners are always welcome. A facilitator will
be present to help participants feel comfortable and learn basic drumming techniques.
Bring your own drum or use one of ours.  This portion of the day is free and open to the public
Evening Ecstatic Dance with Spiral Rhythms Ensemble & Tricia Chirumbole
The ecstatic dance experience is a fun, safe, intentionally created space for the free expression of body, mind, heart, and soul.  Participants are invited to let go of their minds and sink into the wisdom residing in their bodies.

Musicians and dancers create the dance together, in the moment, to realize deeper connections with each other and themselves, through emergent, authentic, and free-form expression. The experience is a powerful and transformative metaphor where individuals discover their self-limiting beliefs and the power they possess to overcome them, while connecting authentically with others.  

No dance experience is required; No steps to learn – Come as YOU are and Move as YOU wish! All bodies and physical ability levels are welcome. Get back in touch with your body, your intuition, your unique expression, and the ecstasy that lives within you!
Meet the Instructors
Dr. Harry Pepper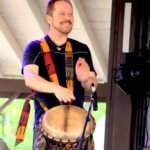 Harry Pepper, Ph.D., is a psychologist and a musician. Harry also maintains a private practice and has a growing life coaching practice, working with clients across the nation. He is an experienced presenter on a wide range of topics including holistic and alternative healing approaches, shadow work, relationship issues and men's issues.  His musical collaborations include Jim Donovan and the Sun King Warriors, Matt Otis and the Sound, and the Spiral Rhythms Ensemble.
Rex Bacon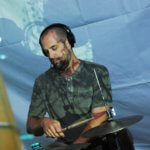 Rex Bacon is a board certified music therapist, professional drummer and drum circle facilitator. Rex received his B.A. in Music Therapy from the University of Dayton in 1997. As a full time music therapist, Rex has worked in various healthcare settings including mental health center, children's home, and an alternative school. Currently, Rex is working at North East Reintegration Center. Rex has facilitated hundreds of drum circles in churches, schools, libraries, hospitals, wellness centers, corporations, colleges, camps, and weddings. He has presented drumming workshops to colleges, social service agencies, and music therapy conferences. Rex combines creative drumming techniques with warmth and humor, enhancing the feelings of wellness and community within each circle he facilitates.  Rex has had articles published by the Percussive Arts Society, and the Drum Circle Facilitators Guild. Rex has also been a member of the Recreational Drumming and Interactive Drumming Committees for the Percussive Arts Society. Currently, he is a member of the improvisational-based percussion group, Spiral Rhythms Ensemble.
Tricia Chirumbole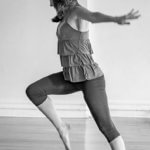 Tricia Chirumbole is a life-long lover of dance, who is passionate about co-creating emergent and connective group experiences through movement. Tricia has studied Ballet, Jazz, West African, Afro-Brazilian, Contact Improv, and Modern among other dance forms. Her influences in "conscious dance" and as a movement facilitator include: Dancing Mindfulness (trauma-informed), 5 Rhythms, and Ecstatic Dance. Tricia's classes weave a range of mindfulness & expressive arts practices together, including: meditation, chanting/toning, breath work, yoga, ritual, journaling, drawing, and play! You may find her dancing through the grocery store, up the sidewalk, or following the beat of distant drum and she hopes that you will join her and find joy in dancing like the whole world is smiling on you!
Ed Boas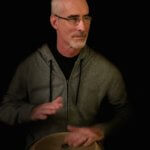 Ed Boas is a lifelong percussionist and certified Drum Circle Facilitator who helps groups and organizations to build community through rhythm. His decades of experience combined with a passion for drumming are apparent in his expert Drum Circle facilitation. People of all ages, with little or no experience, choose a percussion instrument and with Ed's leadership quickly fall into a groove creating music in the moment. This highly interactive and engaging rhythm based experience encourages, creativity, self, expression, group cohesion and unity all while having a great time.
Related Events