Getting into the Groove
Harmony drum circle fosters healing, creative rhythms in community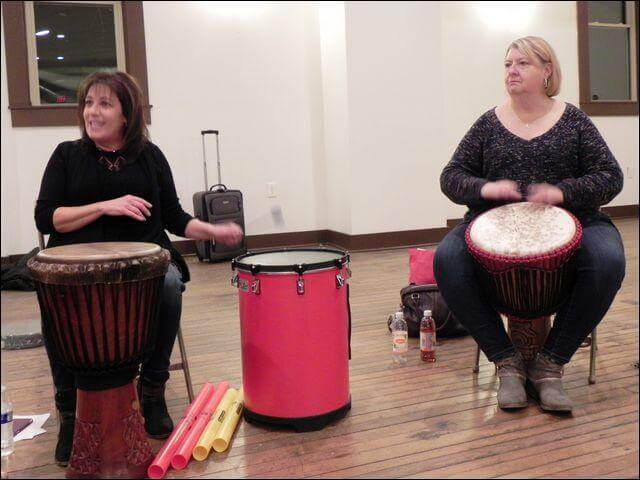 Annie Mathe, a retired dental hygienist, left, and Patricia Bauer, a retired music educator, serve as the drum circle facilitators for the Harmony group.
HARMONY — With his left and right hands, Rob Kinney hit a succession of taps and pats until he struck a harmonious beat.
"I've never gotten to experience it," said Kinney of Ellwood City about the drum circle. "I loved it. You just pick up the rhythm."
Kinney was one of seven drummers who thumped rhythms on different drums, including djembes, bougarabous, kpanlogos, ashikos and tubanos, to add their share to the sound in the Opera Hall on the second floor of Wunderbar Coffee and Crepes, 253 Mercer St., during the monthly community session of the Harmony Drum and Dance Circle.
"A drum circle is a gathering of people coming together for the benefit of music and rhythm," said Patricia Bauer, a drumming facilitator. "We have something for everybody."
After his first experience, Kinney said he is considering returning to the drum circle.
"Even if you think you won't get it, they just slow it down," he said. "You didn't have to have experience. It was nice."
Drum facilitator Annie Mathe is not a typical musician, but a retired dental hygienist.
"I learned as I went along," Mathe said.
After Mathe attended a drum circle leadership class with Jim Donovan, a professional drummer and percussionist, she became an instructor a week later for at-risk youth in Zelienople, she said.
Bauer, who brings her own 13 drums to the monthly drum circle, met Mathe at Donovan's event. In 1996, she was a pilot teacher for the World Music Drumming Curriculum.
"That's when we decided we wanted to do this," Bauer said.
About three years ago, the group started as a women's circle in Harmony that met at the Bottlebrush Gallery, Bauer said.
That space became too small as the number of participants increased, she said.
"We wanted to open it up so that kids, men, anybody could come," Mathe said about the choice to expand the circle.
Although Mathe and Bauer have different backgrounds, they complement each other, Mathe said.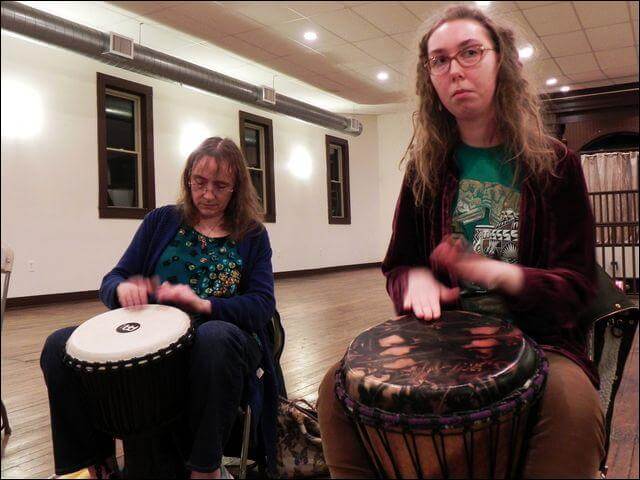 Beaver Falls residents Sherry, 58, left, and her daughter Elizabeth Allen, 20, play different beats on their drums at the Harmony Drum and Dance Circle.
"We have a nice rhythm in the two of us because she is more of the teacher and I'm more of the one who tells people you don't have to be a musician," she said.
Mathe, who also has a drum circle for memory care patients with dementia and Alzheimer's at Passavant Community, brought a suitcase filled with other percussion instruments and rhythm makers from shakers to tambourines to bells.
"Anybody can do this; that's what's so fun," she said as she shook a maraca. "Even if people are intimidated at first with the drums, sometimes they'll start with something like this … Once we start all playing, they feel like they can do this."
Previous drumming or music experience is not necessary, Bauer said.
No mistakes exist in the circle.
"If you think you've made a mistake, smile and keep on going," said Bauer, who starts with a brief lesson on how to play for newcomers. "This is a non judgmental zone."
Besides learning music, drumming teaches community, musicianship and respect, she said.
A person's outlook and mood changes from the time they sit down at the beginning of the drum circle to when they leave, Bauer said. "It's calming. It's relaxing. It's invigorating," she said. "It's whatever you need it to be."
During the drum circle, drummers were encouraged to express themselves and play how they felt.
Beaver Falls resident Elizabeth Allen, 20, who was in search of a drum circle opportunity, found the Harmony group on social media and decided to bring along her mother.
Elizabeth described the moment as synchronistic.
Her mother, 58-year-old Sherry Allen of Beaver Falls, said, "My hands are tingling. It was neat getting into the beat."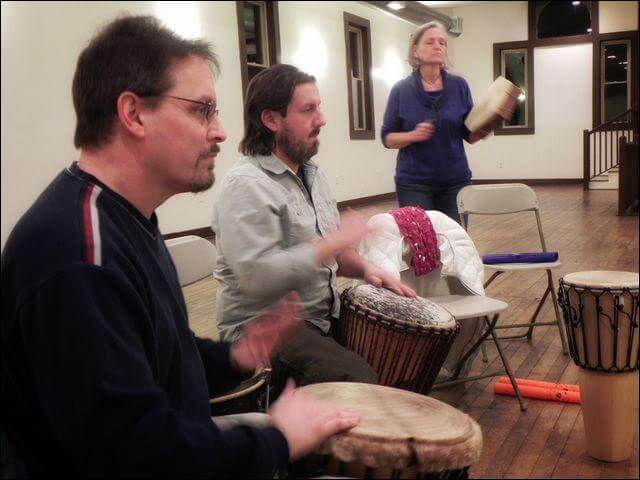 Ellwood City resident Rob Kinney adds his own rhythm to the beat played by the Harmony Drum and Dance Circle. .
IF YOU GO
WHAT: Harmony Drum and Dance Circle
WHEN: 7 p.m. Feb. 6; doors open at 6:30 p.m. and start time is 7 p.m. the first Thursday of every month
WHERE: Wunderbar Coffee and Crepes upstairs Opera Hall, 253 Mercer St., Harmony
NOTE: No experience or drum necessary
MORE INFO: Visit the group on social media at facebook.com/Harmony-Drum-and-Dance-Circle-1619419238385323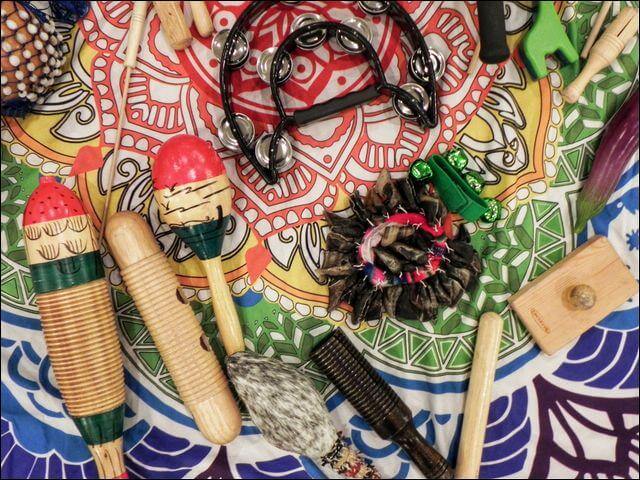 The Harmony Drum and Dance Circle meets the first Thursday of the month in the second floor opera hall at Wunderbar Coffee and Crepes, 253 Mercer St. in Harmony. In addition to drums, there are a variety of percussion instruments available to play. PHOTOGRAPHY BY GABRIELLA CANALES/BUTLER EAGLE
ABOUT THE FACILITATORS
Patricia Bauer is a music educator and a drum circle facilitator. She holds a bachelor's degree from West Virginia University and a master's degree from Duquesne University. She began her career in Wood County, W.Va., teaching chorus and general music.
She moved to the North Allegheny School District in 1984 where she has had experience teaching band, orchestra, chorus and general music with an emphasis on world music drumming.
Annie Mathe is a certified holistic reflexologist, healing touch practitioner, and drum circle facilitator who uses a gentle, loving approach to inspire others to lead a healthy, empowered, extraordinary life.
Whether it is through, drumming, chanting, meditation, song, or reflexology, she realizes the importance of providing a safe place in which others can rediscover the awareness of the natural forces within to heal, and find a way to rekindle the spiritual fires of one's true inner nature. She received her drum circle leadership training from Jim Donovan, an award-winning musician, educator and teacher.
You can find more news and articles available on our "In The News" page.