The Center of Harmony's Christmas Festival Vendors and Activities
by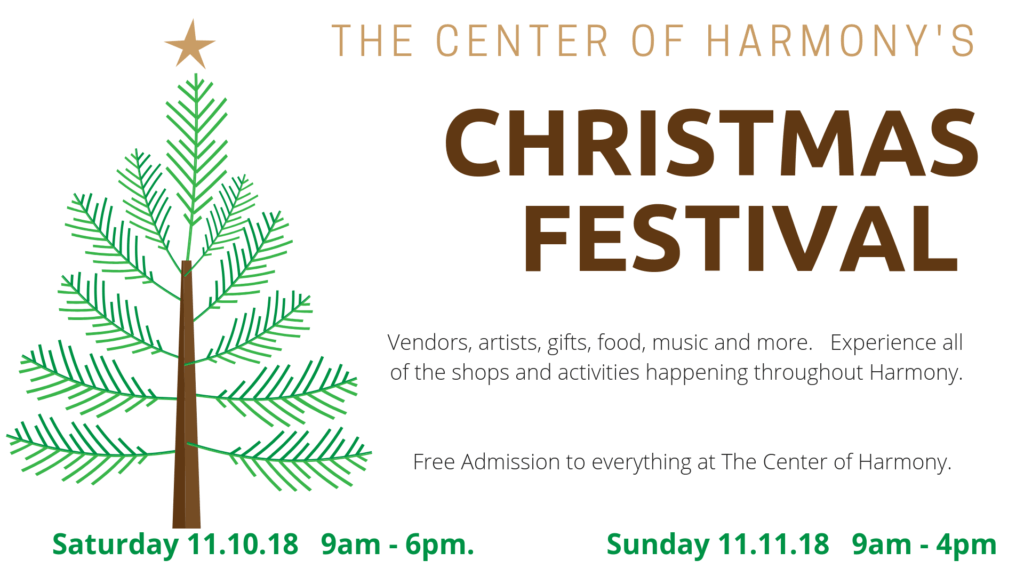 November 10 & 11th, 2018.    Christmas Festival
This year is shaping up to be a great Christmas Festival at the Center.    Here is a list of some of the vendor's and things happening at The Center.   As always, it is free and open the Public.   No Admission
VENDORS, ARTISTS, AND SMALL BUSINESSES;   There are 3 inside spots and 4 outside spots remaining.   If you are interested in participating, please email us.
Date and Times:
Saturday November 10th.  9am – 6pm
Sunday November 11th.  9am – 4pm
Artists, Crafters & Vendors Inside the Opera Hall
McPharlin Music Shop students will be performing through out the day in the Opera Hall.   You can enjoy the live music while shopping for that perfect and unique gift.
PunchNeedle Art.   Etsy.
Moore's Macaroons   Facebook.
Antiques and Collectables by Debbie
Hand Sew Items and Towels by Wendy
Sandpiper Soap Company.   Website 
SeedBeads by Heidi
Essential Exhale:  doTerra and Prime My Body.    Facebook
Food, Vendors and More Outside on The Pavilion and Parking Lot