Dana and I wanted to take a moment and reflect on our experience over the last year.   It was Thursday Night September 16th, 2011.  We happen to see a "Lease Available" sign above Todd's Harmony Emporium.   We had been discussing opening some sort of Yoga Studio or wellness center.    As we looked through the former Siri's Dance Studio, our minds started to churn.  What would work here?  Would it be supported?  After 15 minutes, we walked out the front door and glanced across the street.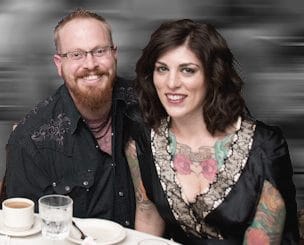 There it was.  The old Otto & Gert's building, with a "For Sale" sign on it.  I remembered how neat I thought that shop was.  I remembered the wooden refridgerator in the front.    I call Melissa Vaughan, my real estate agent.  She was there within 10 minutes.   As we were walking through, the current owner of the building came by.   We meandered through the labyrinth of the structure.   "Wow," I though, "this place needs some work"   That was a dramatic understatement!    On a whim, we put in an offer on the spot.  It was low, but it was worth a gamble.    By the next afternoon, we had deal worked out.  That was Friday, September 17th, 2011.
The following week, we left for Central America for a week's vacation.  We returned on Thursday September 30th, and closed on the building the following Monday October 3rd, 2011.  That is The Center's official birthday!    All told, less than 3 weeks from walking through to owning this piece of history.  The biggest impulse buy in history.
Now what?!?!?  That was the first (and strongest) reaction I had to owning this beautiful, historic money pit.  From the beginning, Dana had a solid visions of what it should be. She understood that there is a significant shift in the way people are choosing to live, relax, shop, eat and experience life.   People are seeking out more environmentally conscious, socially responsible and health focused lifestyles.    There is a need for these goods and services.   Furthermore, we both felt called to do something that would make an impact.   How could we do this?  Would it survive?  This was a massive investment in a feeling and belief .
From the beginning, I was more focused on the business of getting it renovated and rented.  I wanted to get tenant's in and start generating some income to offset the renovation expenses.   There were times this created some stress between us.  I was pushing to get it rented,  Dana was making sure we were staying true to the vision.     Fortunately, I came around to better understand her vision for the Center of Harmony and wholeheartedly worked towards that.  Together, we pushed forward.
Tenants.   The key to any successful commercial real estate. Where are they?  How do we get them?   Well, they found us.   Pearlette was the first and seems to be predestined to be here.  Adrienne Grafton was losing the lease for her Northside Studio of two years.  She called around and happened to leave a message with secretary at the real estate company I was using.  As I was walking out of the building's  closing, the secretary handed me a note with a name and phone number.   I called Adrienne, discussed her needs and budget.  She walked down from here home across the bridge in Harmony!   We shook hands and Pearlette between our first tenant within 2 weeks of buying the building.   Next came Wunderbar Coffee House.   Roc and Vicky Dornbrook were friends we had meet the previous year.   We had a long talk on our porch the previous fall about how the town needed a coffee shop.    We picked up the phone and asked a simple question, "Would you be interested in starting your coffee shop?"  The answer, as you may guess, was YES!      Dana and I continued to rack our brains on who or what would fit in with the Center and it's vision.  Bingo!!  My college friend Lisa Krack.  She owed Darn Yarn Needles and Thread in Butler, an organic, domestic and fair trade knitting supply store.  She and her husband, Dave, came down to see the space.  After some deliberation, she decided to take a leap of faith, pack up and move to her business to Harmony.   These were the first people that were in for our "Grand Opening" on January 14th, 2012.
Dr. Mary Davis, of  SuMa Integrative Medicine and Medical Acupuncture, had looked at the building a few weeks before we bought the place.  Her friend had forwarded her an article about the Center in the Butler Eagle.   She called us up, we met and now are proud to have her in the house on the property.   Pam Johnson, of Just Pam, was referred to us by Lisa Krack.   Dana and I met with Pam and her husband, Ed.   We knew instantly that they were the type of people that "got it".    Just Pam moved her shop to Harmony from her Butler location and quickly expanded in to offering consignment equestrian apparel.   Bottles and Barrels approached us about a putting in a wine store that carries locally made wine.  Slam dunk, YES!     Finally, Dana and I had toyed with the idea of opening a retail shop in final storefront available.    We met with a local manufacturers clothing rep about becoming her showroom.  We liked her merchandise and we liked her.  Unfortunately for us, she got an opportuntiy that would not permit her to move forward at the Center.   We were saddened and the space set vacant for several months.   We had interest, but nothing seemed to "click" with us.    One day I was talking with my childhood friend, Israel Barkley.  His wife Kandy had been involved with a fashion show and sale across the street at Marion Davis' Salon.   I mentioned she is welcome to use our space if she ever needed.    We knew she carried the lines of clothing we had seen from the local rep and was working closely with her.   Kandy approached us about setting up a shop and thus Eye Kandy was established in the Center.
The Center has allowed Dana and I to pursue some of our passions as well.   Dana is now teaching yoga classes and private lessons in the Opera Hall.   We have brought in outstanding seminars and workshops on a wide variety of interests.    I was able to establish the first eLoop Recycling drop off center in Butler county.   Since April we are over 5-1/2 ton of recycled e-waste that is not going to be in a landfill.
There have been frustrating moments, unexpected repairs and set backs.  Just as there are in any project of this scope.   By staying true to the vision, we feel we have created something unique and pretty darn special.    We are grateful for the wonderful, creative people that occupy the Center of Harmony.    They have been a blessing and a pleasure to work with.     Dana and I sincerely appreciate all of the kind words and support we have received from the community and Harmony Borough.    We have a magical, little community here.    Thank you to each of you!
"The Center of Harmony is a group of collaborating businesses who are focused on preserving the environment, strengthening the community and empowering people to live healthy, happy lives.   This is a place where positive, forward-thinking and dynamic people come together to thrive and grow"