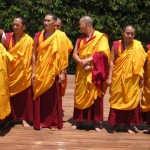 Geshe Dorji Wangchuk explains the basic principles and healing qualities of Tibetan herbal medicine as well as the diagnostic methods. These often include pulse reading.
The Tibetan medical system uniquely integrates Chinese and Indian systems and the European system of Galen. Frequently doctors of medicine were also religious monks because it is well understood that the body-mind system is one and that physical illness always begins in the mind and spirit. Besides prescribing herbs, massage, and accupuncture, practitionerss may also prescribe specific meditational practices.
We will conclude with a brief healing ceremony focused on Medicine Buddha.
If you are interested in making an appointment for a medical consultation, this introduction will be helpful.
You can schedule a private consultation with Dr. Wangchuk .
 Suggested donation: $10 – $20 at the door, no one will be turned away due to lack of funds.
 Blessing Ceremony
The Gaden Jangtse monks perform prayers to remove any obstacles that might arise as the Harmony Center moves forward with its evolution.
Bio of Dr. Wangchuk
Dr. Geshe Dorji Wangchuk was born on 15th June 1966 in Bhutan, a country located between Tibet and India. At the age of 10 he joined monastery called Rigsum in Eastern Bhutan where he studied Buddhism and began Tibetan medical training for 8 years. He graduated in Tibetan Medical studies at the age of 18. In 1985 he joined Gaden Jangtse Monastery in Mundgod, Karnataka, South India where he studied Buddhist philosophy, Arts, and Rituals for 20 years and received the Geshe degree (the highest honors in Tibetan Buddhism) in 2004. Dr. Wangchuk then joined Gyudmed Tantric Monastery, successfully completed tantric studies and received the Ngarampa degree in 2006.
Beside his monastic training, he also received numerous Buddhist teachings from different teachers from all the schools of Tibetan Buddhism.
Throughout his religious education he practiced Tibetan medicine. He has treated thousands of patients at home and abroad. Currently, he serves as a director of Tibetan Medical Center in Gaden Jangtse Monastery in India.