Free Electronics Recycling for the Zelienople/Harmony and Surrounding Communities
Got Old TV's, Computers or Electronics?
We can help.    Through our partnership with eLoop LLC, we offer free electronic recycling services to the community.  Recycling is not only the right thing to do, but it now Pennsylvania state law.   The Covered Device Recycling Act has taken affect on January 24th, 2013.  Computers, TV, Monitors and related peripherals are banned from landfills in PA.
How this works
The Center of Harmony was the first eLoop Certified Recycling Partner in Butler County.    You can drop of your used electronics 24/7.    Please place them in front of the double green doors of the greenhouse, under the eLoop banner.   We come by once a day, collect and sort them.   eLoop LLC picks up the full pallets of e-waste and processing it in their Murrysville, PA plant.    There is a black mailbox next to the green doors for payments and donations.
Items we can accept:
TV's – any size
Computers, Monitors, CPUs, CRTs, Flat Panels, Laptops, Notebooks.
Printers – Inkjet, Laser and Scanners
Copiers and Faxes
Microwaves
Batteries
MXE –  Mixed Electronics, consists of any of the following:

Computer Speakers   –   Keyboards & Mice
Stereos   –   DVD-CD Players   –   Large Speakers
Phones   –   Radios   –   Cameras
Sweepers   –  Toasters   –   Mixers   –   Hair Dryers
Game Consoles & Controllers   –   Cables Boxes   –   Satellite Dish
Items we are not currently accepting:
Fluorescent light tubes   * We can take these, but there is a $1/foot charge.   This covers the cost of recycling these, please contact us to make arrangements.
CFL – Compact Fluorescent light bulbs
Major Appliances such as stoves, ranges, or refrigerators.
Any device containing Mercury, Freon or other hazardous liquid or gas.    *We can accept window air conditioners for $10 processing fee.  This covers the cost of the refrigerant removal
Please help us keep this service viable!
Please don't leave any boxes or bags.  It is time consuming to handle and recycle those items.   This service is for individuals and small, local businesses.  If you a business with a large volume of e-waste, please call to discuss options.   We are not a dump, please don't treat like one.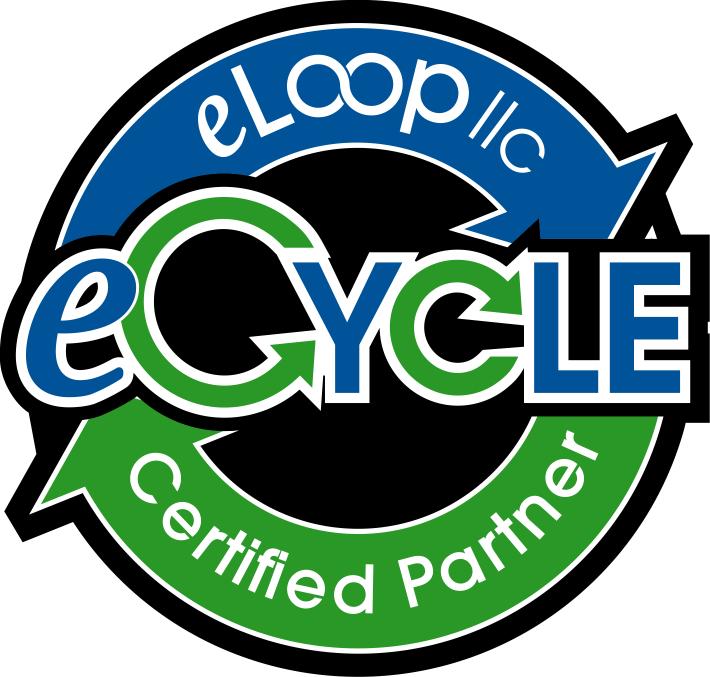 About eLoop LLC
When it comes to environmental compliance, we've got you covered. Assets that no longer function or are below a usable technology threshold are permanently destroyed, and commodity grade materials are reclaimed. eLoop LLC is a PA DEP permitted demanufacturing facility that can provide a transparent chain of custody from the time the end of life assets leave your facility, through the demanufacturing process, to the downstream vendors that trade the commodities. eLoop LLC is a pledged e-Steward with the Basel Action Network and we comply with the Recycling Industry Operating Standards (RIOS) as outlined by the Institute of Scrap Recycling Industries.
Landfill avoidance of 98% of all material
Nothing is processed by Prison Labor
No untested / non-working electronic equipment is exported to developing countries
All reclaimed commodity grade materials are resold
Best of all,  This service is FREE!  It is a service that the Center Of Harmony is proud to provide to the community and businesses.   If you have have larger or more complex business needs, please contact us for more details on additional services available.
If you have any questions, please call 724-400-6044 ext 17.  Leave a message and someone will return your call.
More information on hard to recycle and hazardous items, contact Recycle Butler 
124 West Diamond StreetPO Box 1208
Butler, PA 16003
Phone: (724) 284-5305 or 5300
Fax: (724) 284-5315